Eq
Man
the assets management software
A simple and easy approach to the accounting of your inventory items, tools, equipment, consumables at any time and from any device
Accounting and inventory
To find complete information about your inventory item, just scan a QR code or NFC tag
With EqMan, you will take inventory 3 times faster and more efficiently!
Thanks to the double confirmation of the acceptance/issuance of inventory items through scanning the QR code, any fraudulent operations are prevented
mplementation from the 1st day!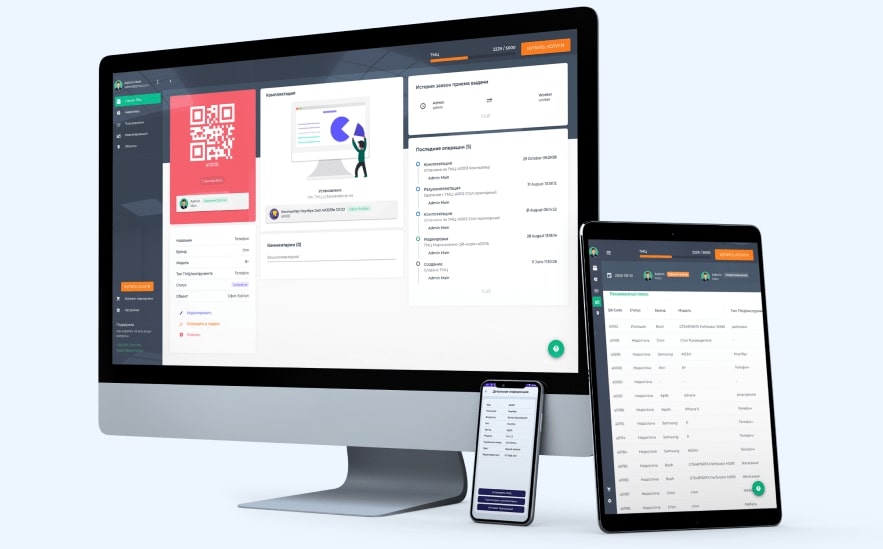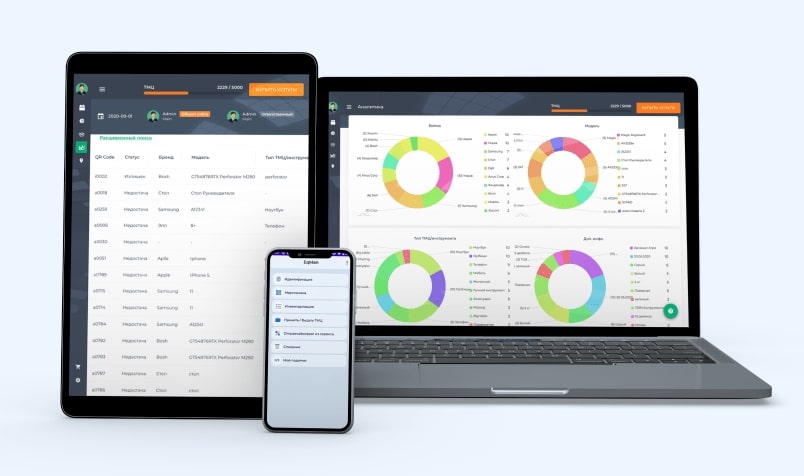 Marking and movement control
Order marking products after registration or at the marking store. Stickers with a protective coating, seals, plates, NFC tags. Shipping worldwide.
Add all materially liable persons
Send the inventory itemsfor service on time
Create sites and locations, track the movement of inventory items between them
Stay informed on where your inventory items are, which employee they are assigned to, and much more
Free Eqman demo!
You will learn about the features of the program and learn how to work with the service
Online in zoom, skype or google meet
At any convenient time
Book a demo
less downtime and losses/theft of inventory items
faster issuance/acceptance of the tool/inventory item
Every business owns assets, and we will help you manage them
Trade and services
Accounting and inventory of goods in the warehouse
How to implement EqMan in 1 day?
2
Create
users and inventory items
3
Generate
a unique QR code and link it to the inventory item
4
Install
the application and keep a record of the inventory items
5
Scan
and link the QR code to the inventory item
Staff training
We will help you implement the application in your company and train the staff!
Start learning
Что клиенты говорят о нас
Реальные отзывы наших клиентов!
Advantages of warehouse accounting with the Eqman software
Warehouse accounting of materials and goods using the software simplifies the tracking of inventory items. You will know exactly where a particular item is located, thereby reducing the time for searching and issuing. What else does online warehouse accounting provide? Here are a number of main reasons to install Eqman:
reducing the number of accounting errors;

saving time on inventory;

reducing the need for a large number of employees – both for the warehouse and specifically for accounting;

saving time on manual accounting and preparation of documentation;

understanding the exact quantity of inventory items in stock;

detailed breakdown: by type, purchase date and expiration date, grades, sizes and other key parameters;

a complete pattern of the movement of goods within the enterprise with the indication of those responsible;

personnel monitoring and elimination of theft.
Online warehouse accounting of goods is the way to accurate planning and control. In addition to standard accounting functions, the software generates statistics and samples, facilitates reporting and document preparation.

Contact us
If you have any questions about the service, or you require a demonstration of how EqMan works, contact us!